Water Heaters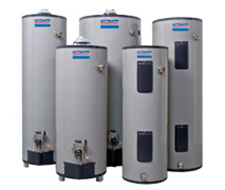 Whether at home or at your place of business, having plenty of hot water available is important. It is also vital to "think green" by replacing your older, inefficient water heaters with new, energy-saving models. Consider replacing out-dated water heaters with the newest technology, tankless water heaters. Tankless water heaters provide an endless supply of hot water while significantly reducing your energy costs.
At any time of day or night, if you need hot water at your place of business, call the experts. Not having hot water can have a significantly harmful effect on both your customers and your employees. Having an adequate supply of hot water at the workplace is necessary for the health and comfort of everyone.
24/7, we are available to replace the broken water heater at your home. Don't let an out-dated water heater be a source of aggravation to you. Our plumbing experts will replace that old water heater with a new, large-capacity and energy-efficient model, one that will provide you with plenty of hot water for bathing, laundry and even the dishwasher. Never run out of hot water again! 
Plumbing Services
Our team of professionals will get you out of hot water by getting you into hot water. If your residential or commercial hot water system is broken or not operating at peak efficiency, please call us at 832-987-2870 in Houston or 972-665-6974 in Dallas. We will schedule an appointment with one of our licensed plumbers who will give you expert, honest and courteous plumbing advice.
From toilets to water heaters and all that is in between, our well trained and knowledgeable plumbing staff can handle the job. Our entire team of plumbers, including the emergency plumbers provide quick quality service when you need it most. As a licensed and insured company, we strive to provide the highest quality of work to our customers. Both our Houston and Dallas teams are experienced in residential repairs as well as commercial work and new construction. We will do the job right the first time, and customer satisfaction is our top priority.
All of our plumbing technicians must successfully pass drug screening as well as a thorough background check before being employed by us. All of our plumbing technicians are experienced plumbers who have worked in the field for numerous years. Upon arrival to your home and inspection of your plumbing issue, a highly trained plumber or master plumber will resolve the issue in a timely manner and explain what the issue was, as well as what was done to resolve the issue, before leaving your home.
Houston Service Areas : 832-987-2870
Dallas Service Areas : 972-665-6974
When you choose us, you will receive excellent customer service and quality workmanship from a highly trained plumber or master plumber, at a competitive price. Our company is a fully licensed and insured company operating in the state of Texas. We believe in providing the best possible service to our customers while also providing a very competitive price. We believe in doing the job right the first time.