Plumbing Services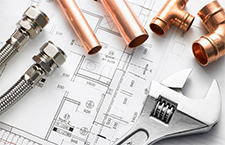 We take on your plumbing related problems as our own. We have years of experience handling plumbing throughout Houston and Dallas; an accomplishment that has made us synonymous with being the experts in our field. We are equipped with state of the art equipment and parts, as well as lisenced plumbers. We guarantee your plumbing problems will be solved swiftly and effectively. With a common goal to be the best technicians possible, we are prepared if you are in need of routine maintenance or find yourself in a plumbing emergency. To learn more about how we can offer you safe, comfortable, worry-free service, give us a call today and get one of the best plumbing services.
Our team provides our residential, commercial and industrial customers with years of experience, a full line of quality septic service, and reasonable rates. We understand how essential a septic tank can be, and whether we're installing a new tank, or repairing your old one, we can considerably reduce your pumping and septic problems, making your septic tank an integral component of your home or work place.
Services
For years, our team has been installing septic tanks, providing pumping services and repairing septic tanks and systems across Atlanta, GA. Throughout this time, we have established ourselves in the challenge of solving septic tank problems. Whether your issue involves pumping, installation or maintenance, we understand how vital a septic tank is to any septic system, and guarantee your system is properly attended to in order to avoid any future septic issues. The pride we take in our work carries through to the quality of the finished job. Instead of putting your system in the hands of an inexperienced septic service, call us and allow our talented plumbers put
their expertise to work.
We firmly believe in providing a comfortable atmosphere for your family or company, and are committed to finding the right heating and air conditioning system to make this possible. This primary goal is our driving force for providing quality air conditioning and heating services. After mastering heating and air conditioning installation, maintenance, service problems, or general repair in entire Houston and Dallas areas, this reputation is well deserved. We also take it upon ourselves to ensure that, regardless of the air conditioning system you have, it is operating safely and with efficiency so that your comfort, as well as those around you, is 100% worry free.
We acknowledge your heating and cooling problems as our own. We are well equipped with state-of-the-art parts and equipment to handle any problem you may be facing with your heating and air conditioning system. The comfort and enjoyment of your home depends on the proper functioning of all your plumbing systems. Problems with your plumbing system are intrusions that need to be resolved quickly and professionally.
Houston Service Areas : 832-987-2870
Dallas Service Areas : 972-665-6974
It is our job to make those problems disappear when they occur. Call us, we'll do our part to restore your home to the comfortable and safe place you want it to be. We exist to make problems disappear. We are equipped to respond quickly and professionally to plumbing problems at your business or commercial properties. As business professionals we understand how important it is to resolve problems that might interfere with your customer or employee satisfaction and your ability to do business. We have the state of the art equipment to diagnose and resolve all your plumbing problems; we'll handle it all.